Catching Up With Everyone's Favorite Mighty Duck
It's always good to see superior child athletes go on to make it in the major leagues of their sports. Like lovable chubby
Sean Burroughs
dominating the Little League World Series for Long Beach, California, then plying his trade in the bigs and sucking for both the
Padres
and
Devil Rays
, all the while, submarining fantasy baseball teams who surreptitiously held on to him, believing he'd someday be a slugging superstar.
You may think that this is a bad example, but it's not.
Rarely do we see the Lebron example, and the Burroughs effect is much more common.
A similar plight has taken to former Team USA and Eden Hall
Warriors
Mighty Ducks JV/Varsity backstop,
Julie "The Cat" Gaffney
.
You may remember Gaffney as the star goaltender from Bangor, Maine who joined Team USA as they headed off to the Junior Goodwill Games in Los Angeles. Unbeknownst to her, she would have to platoon most of the time with Greg Goldberg, often solely acting as his backup. That never stopped Julie and she continued to work hard which was noted by her coach, and she was chosen to face Iceland's lethal Gunnar "You Lost It For Yourself" Stahl in a penalty shot, easily stopping him with some great glovework.
Gaffney's hard work never ceased and it earned her the #1 goalie position for the Eden Hall Junior Varsity Team. Despite a questionable nutritional program suggested by Goldberg, Gaffney's play was stellar, helping her team defeat the mighty varsity squadron, and winning the affection of their goalie
Gunnar Stahl who, in a Bourne Supremacy-esque sideplot, woke up in Minnesota one day with amnesia, an American accent, short black hair, and the desire to play goaltender
Scooter.
Most of her teammates moved away from hockey, doing everything from
Summer Camp Counseling
to joining
secret societies
with Paul Walker. But not Julie, she stuck with hockey, eventually being drafted by the
Boston Bruins
.
Unfortunately, she was once again stuck to platoon this time with the likes of Tim Thomas. Her confidence, clearly shaken big time, caused her to get lit up in the rare instances she got to play, and after an attrocious 5-0 loss to the hands of the Nashville Predators, she was sent down to the American Hockey League's Providence Bruins. Noone seems to know what caused Gaffney's plight.
Me? I'd check to see if somehow Greg Goldberg has managed to get a job with the Bruins Strength and Conditioning department.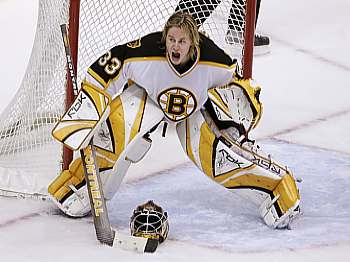 YouTube Clip Of The Day
It's a hellspawn mixture of the bones of fornicators and the sinews of thieves and gluttons...... actually, no, it's a Fender